Smok's Pod kits are legion, and the Novo 4 is totally in line with this line of quality kits accessible to all types of vapers. With its dimensions of 93.5 x 17.7 x 26.5 mm for a weight of 51.7g, it is relatively compact and will easily fit in any pocket or purse. As for the design, at a glance, you can recognize Smok's touch with this elegant kit.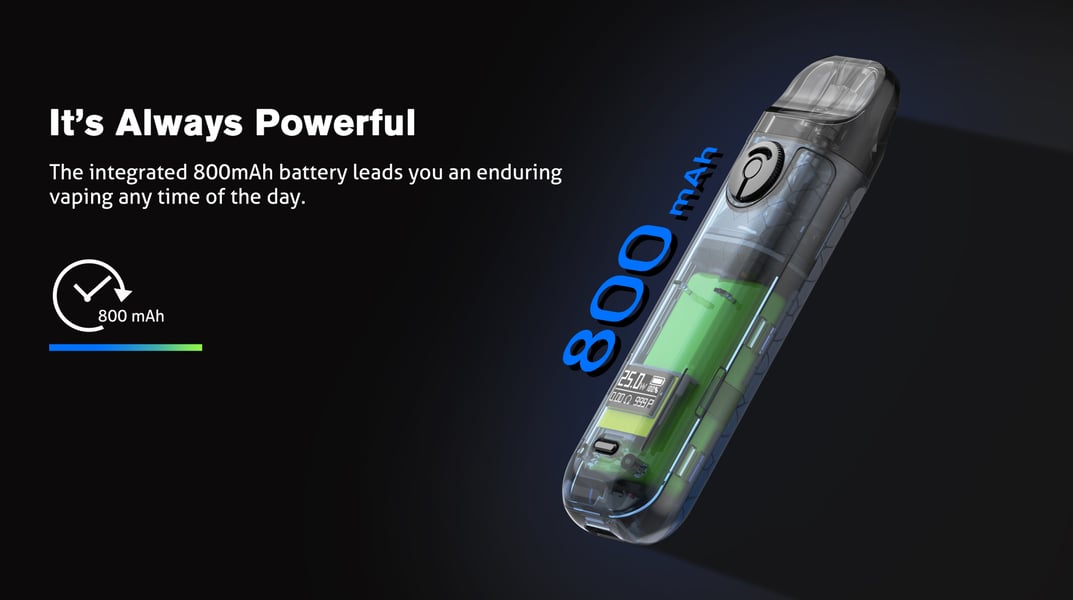 The Novo 4 kit includes an 800mAh battery that is sufficient for daily use of this electronic cigarette. This battery can be fully recharged using the USB type-C cable supplied, and in just 90 minutes!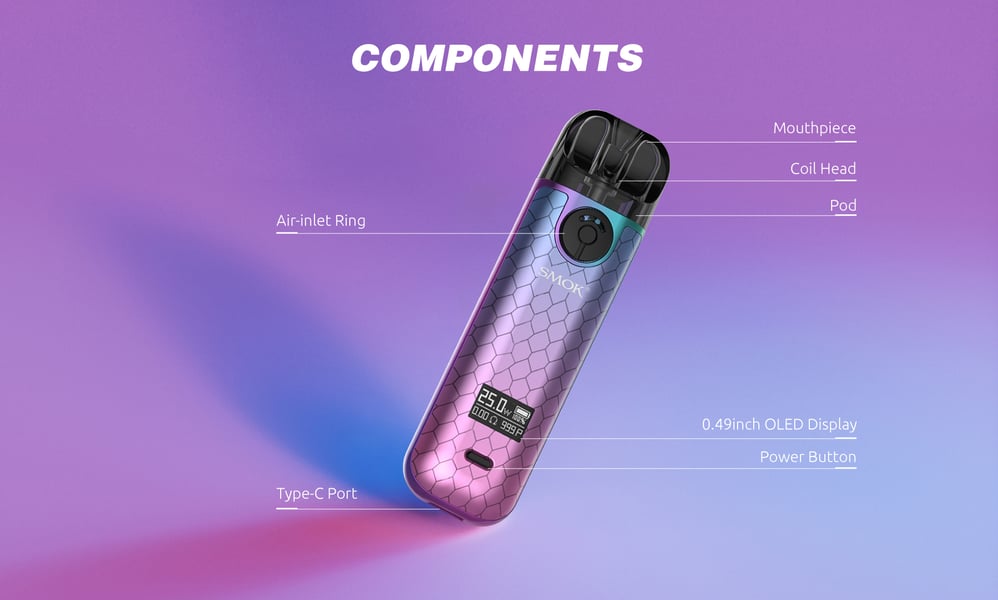 This kit also has a small 0.49" OLED display that makes it very easy to use. With it, you will get all the information you need to operate it.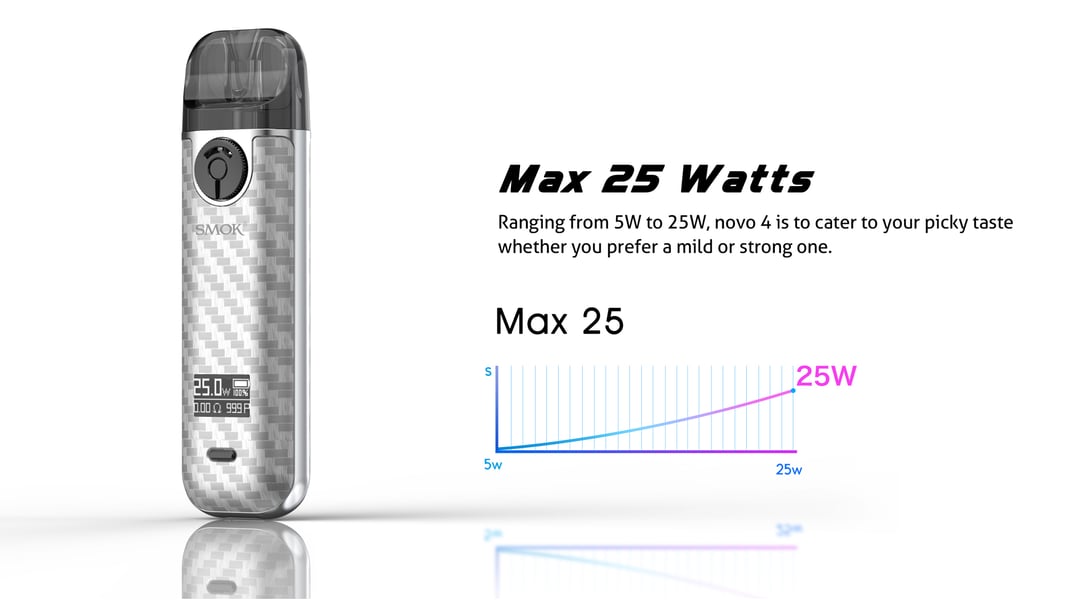 Moreover, using this screen and the two variation buttons located just below, you will have the possibility to adjust its power between 5 and 25W. This is more than enough power for MTL vaping.

The Novo 4 kit uses a cartridge that has a capacity of 2ml. Its reservoir can be easily filled from the side by removing the silicone cap that seals the filling hole. In addition to this, its airflow system is of course customisable to obtain a tighter or looser draw by using its removable ring located around its main button.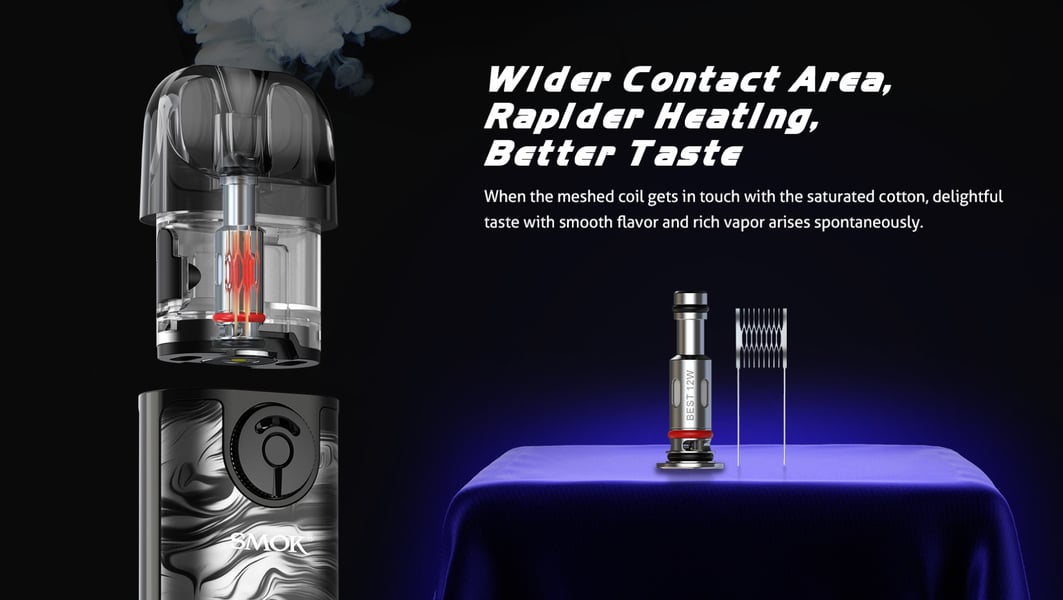 Finally, the Novo 4 kit from Smok uses the brand's LP1 coils. There are 3 of them: the LP1 DC 0.8ohm, the LP1 Meshed 0.8ohm (pre-installed) or the LP1 Meshed 1.2ohm (sold separately).
Specifications
Dimensions: 93.5 x 17.7 x 26.5 mm
Weight: 51.7g
Built-in battery: 800mAh
Charging via USB Type-C cable
Mode of operation : VW
Power range: 5-25W
Voltage range: 0.5-4.0V
Resistance range: 0.4-3.0ohm
0.49" OLED display
Capacity: 2ml
Side filling
Coils supplied: LP1 DC 0.8ohm / LP1 Meshed 0.8ohm (pre-installed)
Compatible coils: all LP1 coils from Smok
Adjustable airflow system
Complete electronic protection package
Charging current: 0.74A
Charging time: 90min
Contents
1 x Novo 4 Smok mod
1 x Novo 4 Smok cartridge
1 x LP1 Meshed coil 0.8ohm (pre-installed)
1 x LP1 DC coil 0.8ohm
1 x USB type-C cable
1 x user manual